The African Agribusiness Incubators Network (AAIN) brings you our second issue of the AAIN Digest e-newsletter of the year 2017.
In the midst of growing demand for agribusiness incubation in Africa, this edition is your spotlight on the news, events and updates of the Incubator of Incubators Centre of Excellence. AAIN embraces the role of effective communication for the growth of the agribusiness sub-sector, highlighting the innovative elements fronted by agribusiness incubation.
Through our social media brand @AAINOnline and organisational publications, we continue to update you on the detailed progress in agribusiness incubation at national, regional and continental level.
The AAIN Digest is our brief from the Incubator of Incubators Centre of Excellence (IICE) that goes out to our subscribers electronically. We welcome you to secure your seat at the 2017 edition of the flagship event that will be held in Dakar, Senegal with youth participation taking centre stage on the second Africa Youth in Agribusiness Day.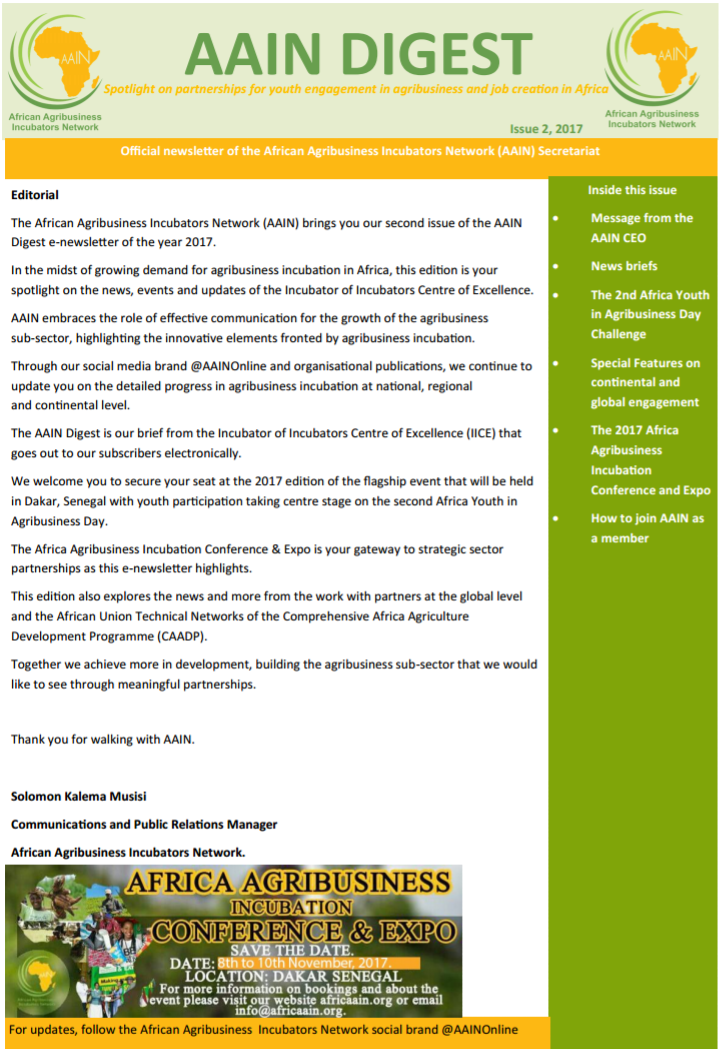 The Africa Agribusiness Incubation Conference & Expo is your gateway to strategic sector partnerships as this e-newsletter highlights. This edition also explores the news and more from the work with partners at the global level and the African Union Technical Networks of the Comprehensive Africa Agriculture Development Programme (CAADP).
Download AAIN Digest 2nd issue 2017