Who Are We
AAIN is registered in Accra, Ghana as private sector entity and is internationally recognised as a Business Development Company.
Our Value Proposition: To be the hub of innovation for African agribusiness incubation.
Our Mandate: Incubating Incubators for Jobs and Wealth Creation in Africa.
AAIN is one of the technical arms of the African Union Commission (AUC) on Agribusiness Incubation and a business development partner to the Food and Agriculture Organisation of the United Nations (FAO), the Pan African Farmers Organisation (PAFO), the International Institute of Tropical Agriculture (IITA), the Technical Centre for Agricultural and Rural Cooperation ACP-EU (CTA), African Development Bank, Forum for Agricultural Research in Africa, Non-State Actors, Youth Networks and the Alliance for a Green Revolution in Africa (AGRA).
We have vast experience in establishing successful agribusiness incubators in Africa with a continent-wide membership of 130 agribusiness incubators.
With 15 in-house incubation experts, over 50 associate consultants on agribusiness incubation and over 510 mentors with hands-on experience, the network brings together unrivaled wealth of expertise and know-how to explore Africa's enormous agribusiness potential.
To further our delivery, AAIN has over 100 on call field-based experts who are part of the AAIN African Agribusiness Incubation Agenda and are based in the existing anchor incubators.
As a membership-based entity, AAIN has registered agribusiness incubators, SMEs, associations, institutions, private sector companies, Government bodies and individuals as the synergy for delivering on our joint objectives.
We also have regional and contact offices in Kenya, Rwanda, Mali, Uganda South Africa, Senegal, Zambia and Benin.
Affiliations
158 Universities, 30 Private Sector Forums, four Sub Regional Research Organizations and three International Research Organizations.
AAIN works across knowledge platforms to facilitate private sector engagement and support of youth mentorship, technology adaptation, localization and commercialization.
From the affiliation with universities, research institutions and the incubators AAIN pioneered and co-created the Earn as You Learn model Learn enriched further through the universities private sector forums.
Our Core Investment Areas
The AAIN Agribusiness Incubation Agenda for Africa was developed with four core investment areas as listed.
The African Agribusiness Incubation Fund (AAIF)
AAIF addresses one of the barriers for youth to enter into agribusiness. The financing is accessed by incubators, Small Scale Incubator Hubs, incubates, students, SMEs, cooperatives or individuals with ideas worth spreading.
Engaging youth and women inTrade and Investment
The Youth and Women Engagement Strategy  aims to turn youth and women into successful agribusiness entrepreneurs, support them to access financing, assist them acquire new technologies and innovations and redesign the curricula to make education responsive to the market needs and trends
Technology and innovation commercialisation

We believe that the economic gain from technologies and innovations cannot be realised if these remain non-commercialised.
AAIN therefore supports startups, SMEs, Incubators and individuals (men, women and youth) to off-take new ideas, innovations and technologies from research to commercialisation and supports technology development and transfer as part of the drive to mechanisation.
Agribusiness  Education and Entrepreneurship

AAIN has developed education curricula for agribusiness from certificate to PhD level to build graduates who respond to sector needs and have insight on practical agribusiness and enterprise management.
Partners and Networks
We have a continental network of institutions working on agribusiness incubation spanning 54 countries network with contact focal points in seven African countries; Kenya, Uganda, Zambia, Mali, Ghana, Benin, South Africa and Malawi.
We are strategically positioned as the Incubator of Incubators Center of Excellence (IICE) to support incubators as they deliver on the incubation agenda.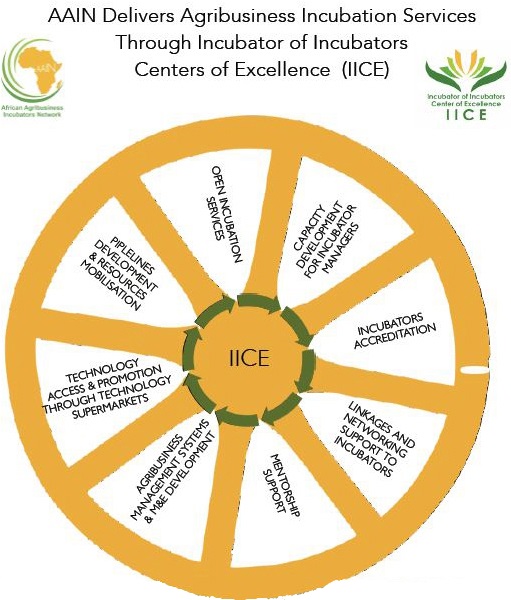 These services create and enabling environment for the anchor incubators deliver customised services for the incubatees.