Africa's campaign for more innovative and sustainable job and employment opportunities creation through agribusiness has been stepped up with the launch of the new phase of Agribusiness Incubation Accreditation.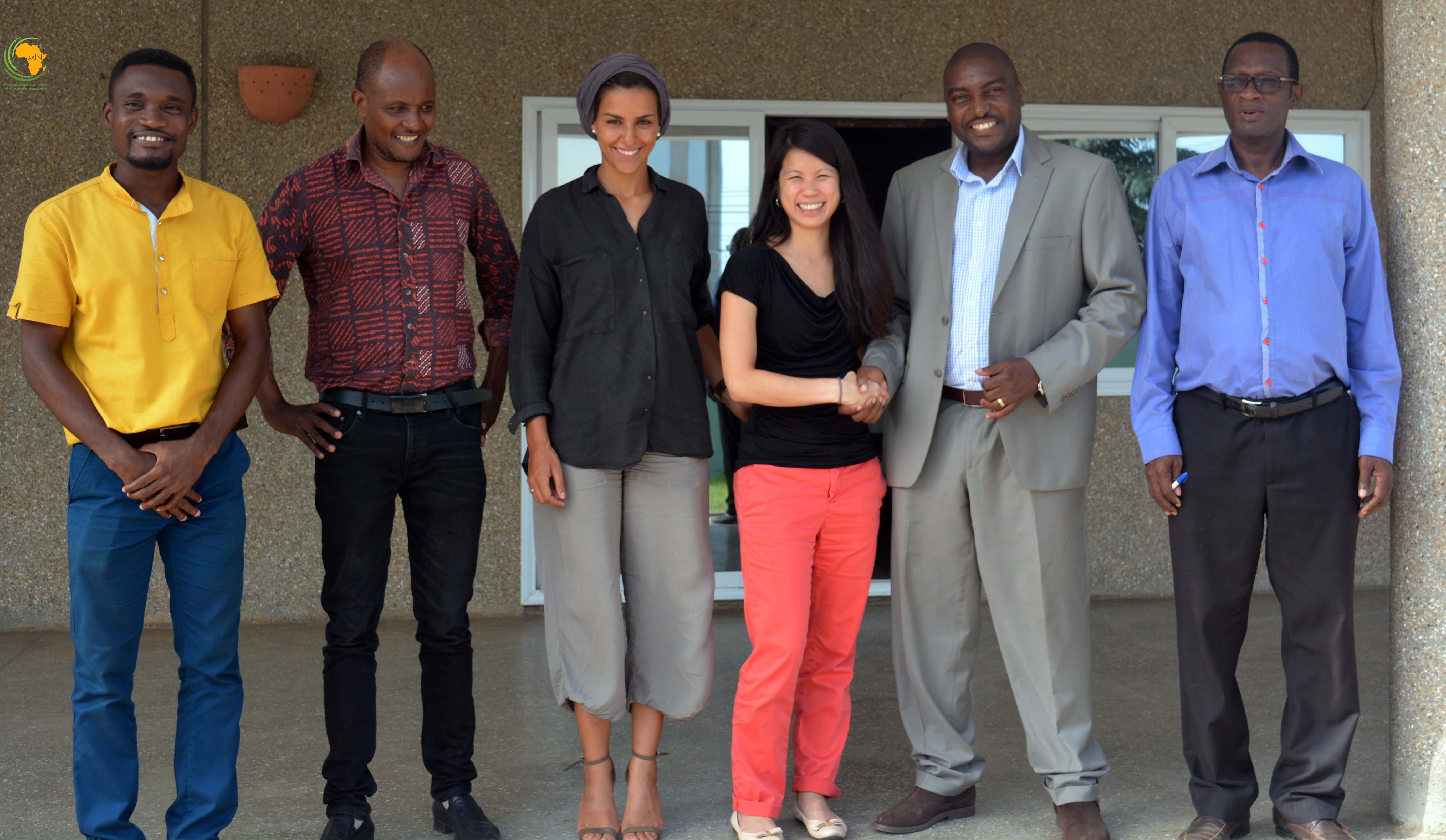 The landmark launch was held at the Secretariat of the African Agribusiness Incubators Network
(AAIN) in Accra, Ghana earlier today during an event attended by Karina Wong, Senior Executive from Small
Foundation in the United Kingdom (3rd right above).
"The accreditation is aimed at strengthening Capacity, delivery and Standards of Agribusiness Incubators and Small Scale Agribusiness Incubator Hubs in (SSAIH) in Africa. This will in turn promote quality assurance and relevance of services and products offered by incubators and incubator hubs hence producing more sustainable start-ups, Incubators, Entrepreneurs, SMEs and accelerators for job and wealth creation."

AAIN CEO Dr Alex Ariho.
Dr. Ariho also noted that accessing financial resources by incubators and incubator hubs must be backed by credible
systems and business models for the investment to bring results and returns, adding that the accreditation process and support will ensure access to pre-investment support services and products by incubators pipelined for support.
Karina Wong from the UK-based Small Foundation expressed their commitment to this venture by
AAIN as a major step in advancing agribusiness incubation in Africa. She appreciated AAIN's work and
value proposition to support incubators that move rural enterprises, SMEs and accelerators in
Africa for economic transformation. The AAIN and Small foundation UK partnership is focussed on strengthening incubation systems development and capacity building.
Certifying efficiency, Service delivery
While general business incubators may be subject to higher possibility of failure, the tested models under AAIN with documented success have stood the test of the time and inspired the launch of a new set of accreditation tools.
"Experience from across the world shows that the main cause for failure of incubators is the lack of backing with tested innovative business models and financing. This informed the establishment of AAIN deploying its experts and business models in 20 member states of the African Union while targeting to reach 55 countries in the next 5 to 10 years. We are committed to continue supporting incubators and incubator hubs to deliver effectively and offer timely services for their clients especially the youth and women in the agribusiness space."

Peter Kuria Githinji, AAIN Business and Partnerships Development Manager.
Why this is timely for Africa
The survival of agribusiness incubators and incubator hubs in Africa directly reflects sustainable job creation and production in agribusiness.
This fits well within the contribution of AAIN as one of the Technical Networks of the African Union with the 2025 CAADP targets of ending hunger, doubling agricultural productivity, halving poverty and creating job opportunities for at least 30% of the youth in agricultural value chains.
With these targets having been committed to by African Heads of State and Government during the
23rd Third Ordinary Session of the AU Assembly in Malabo, Equatorial Guinea in June 2014, the youth also added to the demand for continuity and availability of incubators and incubator hubs.
In their call to governments, private sector and Development partners at the 2016 Africa
Agribusiness Incubation Conference (AAICE) in Accra, Ghana, youth Agriprenuers and leaders expressed the need for such support for incubators to thrive.
The accreditation process is open to all incubators and incubator hubs in Africa with the urge to
upgrade and meet minimum parameters for a successful incubator developed by AAIN and its associate partners.
"AAIN will continue to work with Incubators, the private sector companies, governments and
development partners such as ASARECA, FAO, AfDB, CTA, CIAT, CORAF, ICRISAT, FARA and IITA and more in ensuring quality services, products and standards of agribusiness incubation as the primary focus of the Accreditation at AAIN as one of its core services and products under Africa Agribusiness Incubation Programme (AAIP 2016-2021)." 

Yasmine Najja, AAIN Team Leader for Partnership and Resource Mobilisation.
Positioning for technology commercialisation: The AAIN, ASARECA, AATF and policy collaboration for East and Central Africa
The accreditation process was initiated to respond to increased demand for informed commercialisation of technologies through incubation models and strategic partnerships.
One of the key partners here is the Association for Strengthening Agricultural Research in Eastern
and Central Africa (ASARECA) taking the lead in promoting access to agricultural technologies aimed at the overall target of "Transforming Agriculture for Improved Livelihoods" in the region.
Above: Representatives of AAIN, Ministry of Agriculture and ASARECA at a partnership meeting in Uganda.
This AAIN-ASARECA partnership was marked by a Memorandum of Understanding signed in August at the Accra-based AAIN Secretariat by Dr. Cyprian Ebong the Executive Secretary at ASARECA and Dr. Alex Ariho the AAIN Chief Executive Officer.
ASARECA's expertise has developed a series of effective initiatives highlighted in the Experiences in the Dissemination of New Agricultural Technologies in Africa (DONATA) including Promotion of Quality Protein Maize in Northern Uganda and interventions for Sweet potato marketing as well as marketing of orange-fleshed sweet potato in Kenya among others.
Responsiveness partnerships to increasing demand
With the region of East and Central Africa dependent largely on value chain such as that of Banana, these partnerships will answer to the demand for technologies and jobs along the same.
One value chain for instance is that of Banana.
Millions of households in the region that are dependent on it for income, food and more recently, value added products for export, are set to gain from the partnership with ASARECA and a host of partners including the government of Uganda through the Agriculture Ministry, Uganda Industrial Research Institute (UIRI) and Ministry of Science, Technology and Innovation.
Through work done at this level, Uganda which produces about 10 million MT of bananas annually,
now has a newly-launched Uganda Banana Producers Cooperative Union created with the motivation of "Bananas for jobs and wealth."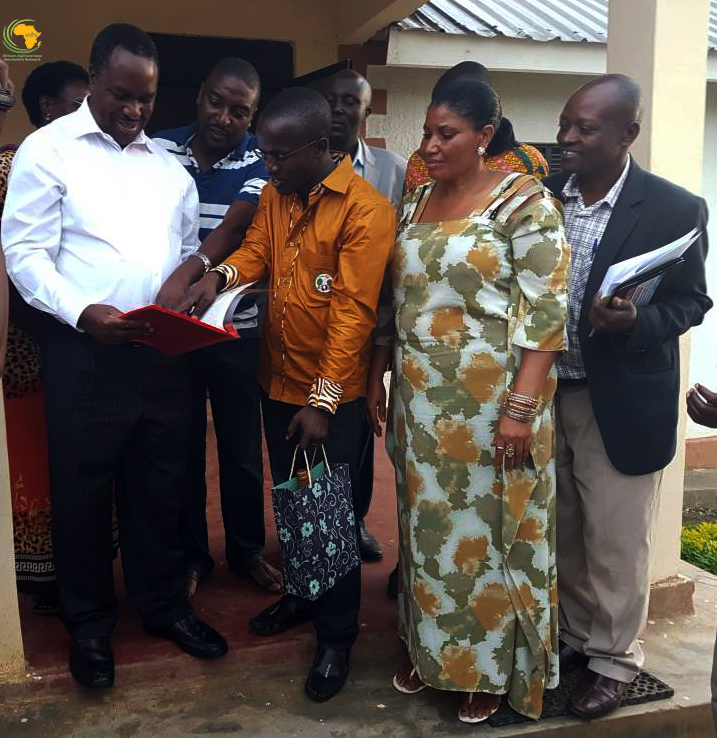 Above: Hon. Dr. Elioda Tumwesigye the Minister for Science, Technology and Innovation (left) with top leadership of the Union during the launch in Uganda.
This is an addition to agribusiness incubators along the same value chain aimed at channelling the benefits of incubation, especially technology commercialisation.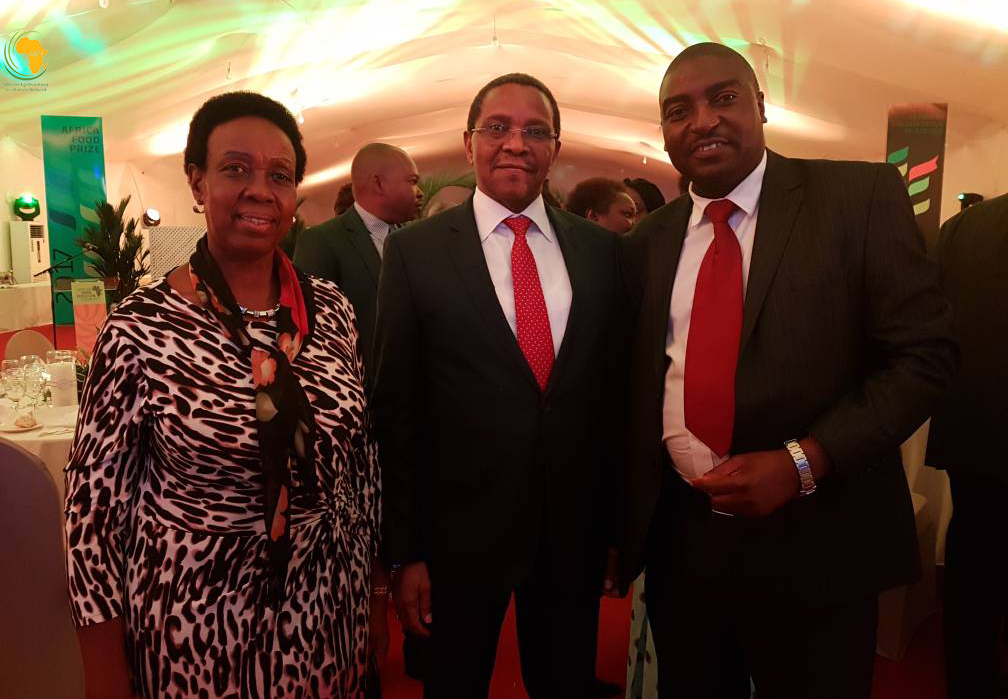 Left to right: HE Rhoda Peace Tumusiime the former AU Commissioner for Rural Economy and Agriculture, HE Jakaya Kikwete who is a former President of the United Republic of Tanzania and Dr. Alex Ariho the AAIN CEO at the sidelines of the 2017 AGRF in Ivory Coast earlier this year. The trio held discussions on availability of opportunities for job creation especially for women and youth through agribusiness incubation.
AAIN joined more experts such as these with partners who were convened by the African Agricultural Technology Foundation (AATF) for the 10th Anniversary of the Open Forum on Agricultural Biotechnology in Africa (OFAB) in Uganda in September to explore ways of increasing joint interventions for technologies subsector.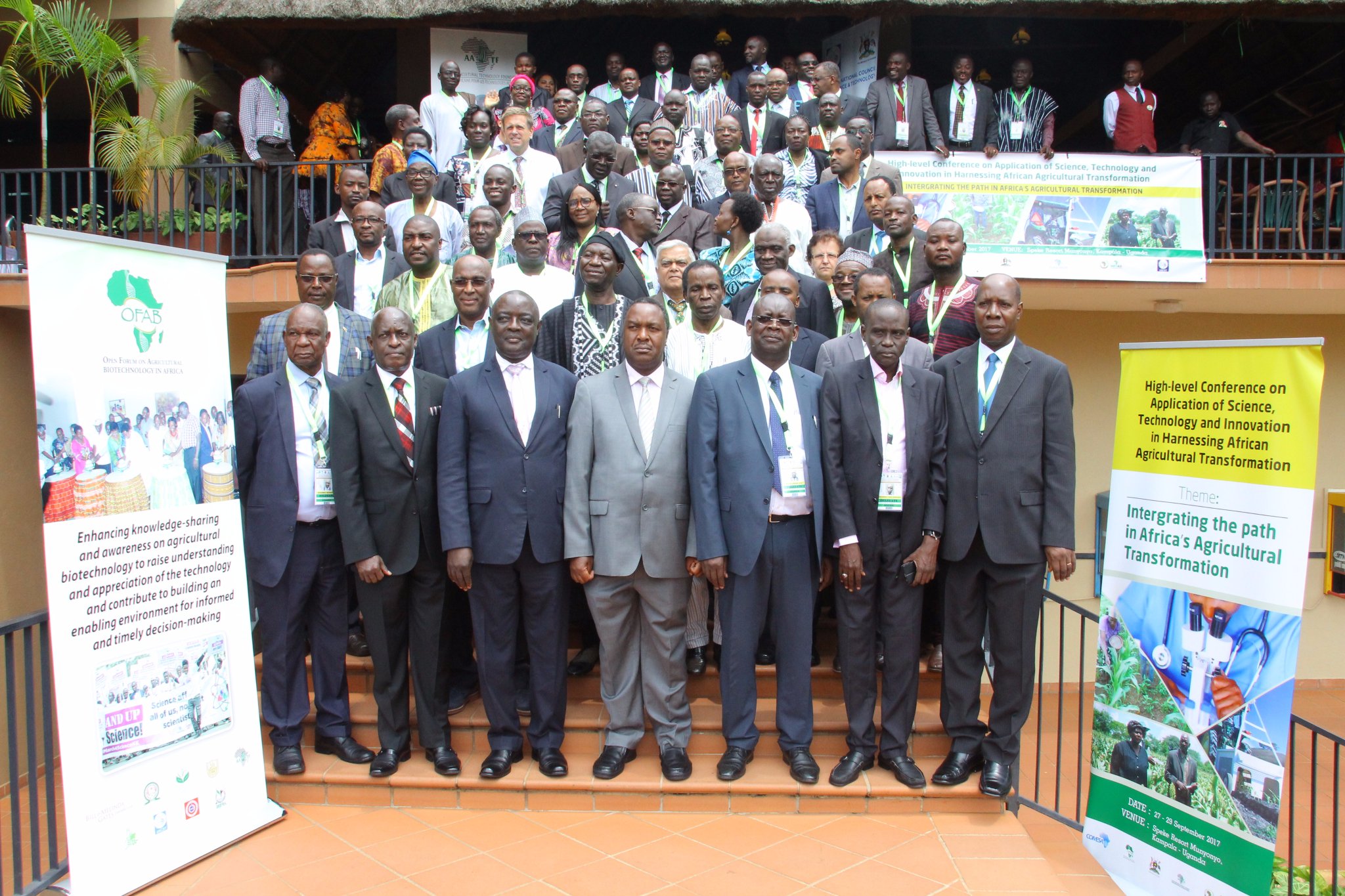 Above: Experts from policy, research, private sector and academia hosted by the African Agricultural Technology Foundation (AATF) in September. AAIN was represented by the Chief Executive Officer.
"We have an already ongoing process now for accreditation to not only ensure that incubators deliver effectively but also to scale up some into Agribusiness Incubator Hubs so that tested models are applied to deliver highly on the targets of these strategic partnerships for job and wealth creation through agribusiness." 

Dr. Alex Ariho, AAIN Chief Executive Officer.
Note: To request for Incubation support experts and accreditation, email us at info@africaain.org for guidelines and reference.