Sam Turyatunga, a graduate incubatee from AfriBanana Products Limited which is a member incubator of the African Agribusiness Incubators Network (AAIN) based in Uganda has received an award from the Uganda National Bureau of Standards (UNBS).
As overall winner in the Agro Processing (MSMEs) Category, his fruit juice company Tursam Investments Limited was recognised at the 2017 Quality Awards Ceremony held at the Pearl of Africa Hotel in Kampala.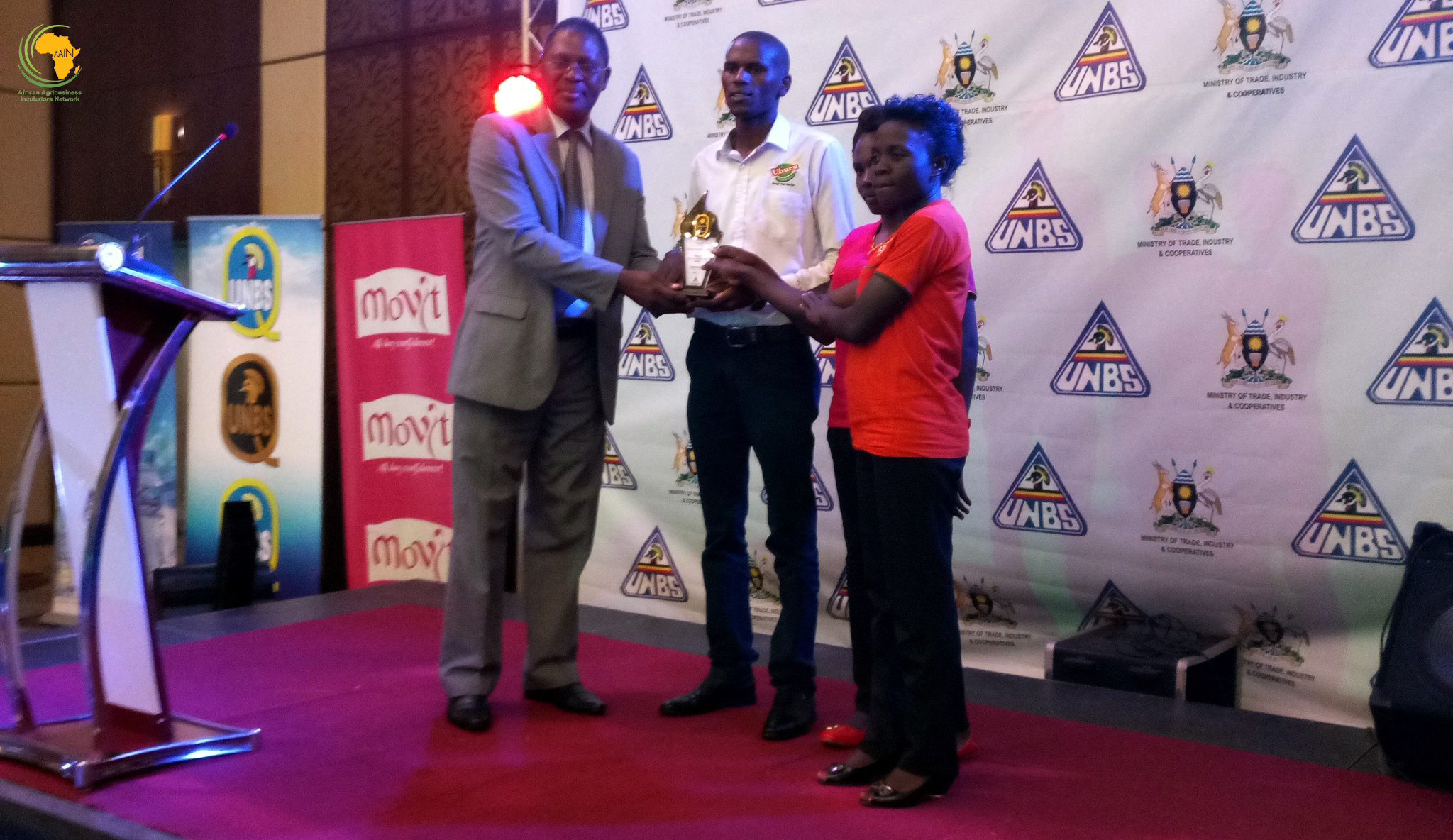 Above: Sam Turyatunga receiving the award on behalf of his company at the 15th Edition of the Quality Awards in Kampala.
From the lab to the East and Central Africa market
Like many other incubatees, Turyatunga kick-started his business as a small-scale start-up in a lab as a student at Kyambogo University in Kampala in 2013, injecting about US$ 900 in capital.
He was taken up by AfriBanana Products Limited under the Learn as You Earn Model and offered space and support with which he averaged about US$50 profit margin from business a week.
"I learnt competitive techniques of fruit processing and value addition through incubation. As incubatees, we were also exposed to product quality and standards compliance and that is what has made our products even more acceptable and marketable." –Sam Turyatunga.
Since he graduated, Turyatunga's company has expanded to reach markets in neighbouring Rwanda and the Democratic Republic of Congo he has gone from making 100 bottles a day from a University lab to churning out over 3000 bottles today with a net worth of US$38000.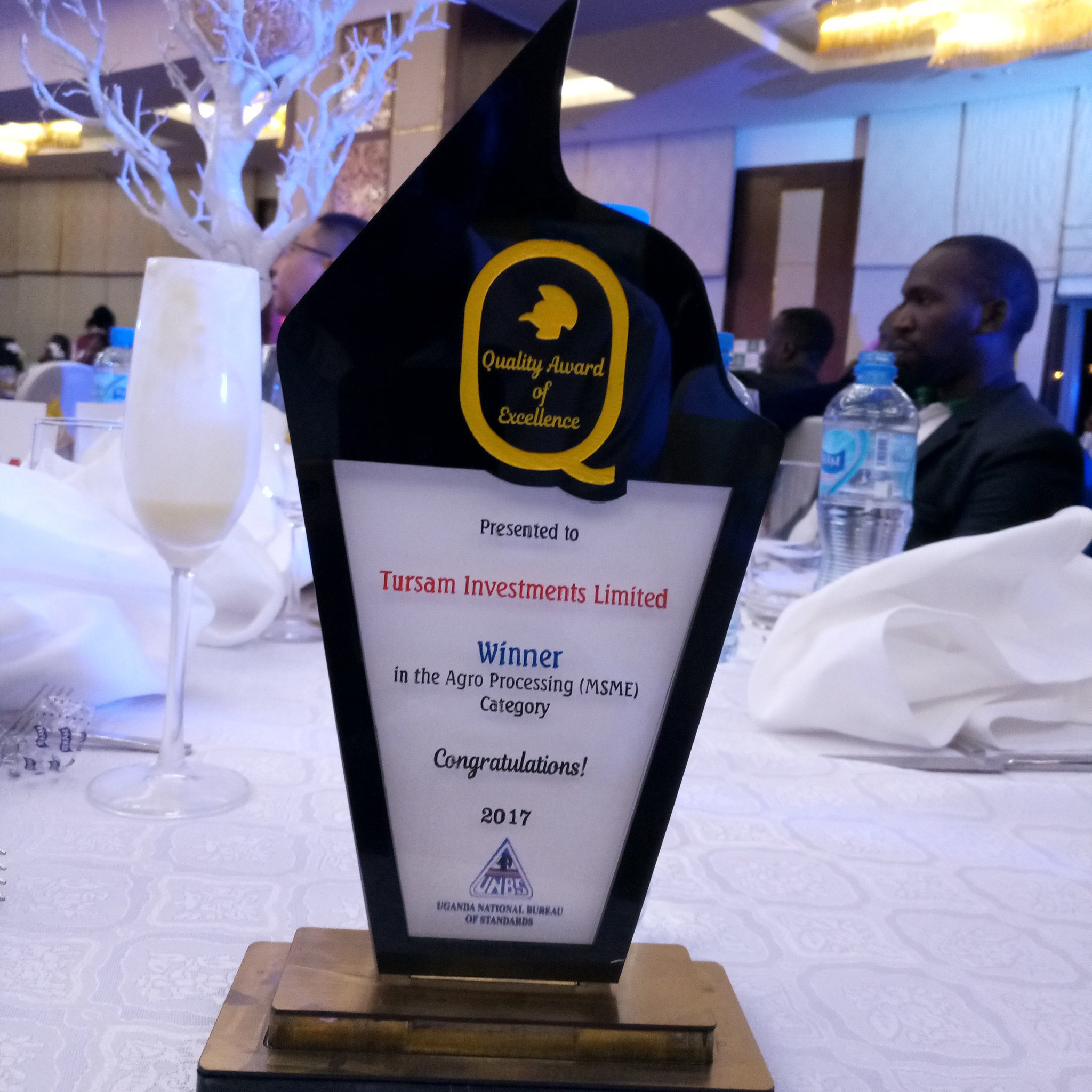 Above: The accolade that was picked up by Tursam Investments Limited at this year's awards.
Future of agribusiness incubation in Africa
Despite the criticism of general business incubation as a means that benefits incubators more than the targeted incubatees, agribusiness experts today hail the model-based incubation that is tailor-made for agribusiness and designed for mutual growth as exhibited across Africa.
"Agribusiness incubation has evolved into a successful means of creating jobs especially women and youth in Africa. This is our aspiration as a Technical Network of the African Union Department of Rural Economy and Agriculture on the implementation of the Comprehensive Africa Agriculture Development Programme (CAADP). It is through this guidance that Africa hopes to create employment for at least 30 percent of unemployed youth along agricultural value chains by the year 2025. The commitment of incubator managers including Muturi Kimani at AfriBanana has pushed this agenda of incubation to date. We hope to do even more through strategic partnerships over the 2018-2023 duration of the Africa Agribusiness Incubation Programme (AAIP)."- Dr Alex Ariho, AAIN Chief Executive Officer.
To produce more such incubatees from proven approaches of agribusiness incubation, the Africa Agribusiness Incubator and Mentor remains open.
"Even as it seems easy to open an incubation centre, experience has shown that the incubators accredited to run AAIN-approved models for agribusiness incubation have managed to stand the test of time, grow and churn out thousands of job-creating businesses. This is why we have kept our doors open to those who wish to acquire training and accreditation to benefit from funding and network access with AAIN."- Peter Kuria Githinji, AAIN Business and Partnerships Development Manager.  
This year's Uganda Quality Awards were held under the theme "Promoting Ugandan Made Products" and attended by among other delegates UNBS Executive Director, Dr. Ben Manyindo and Hon. Amelia Kyambadde the Minister of Trade Industry and Cooperatives (MTIC), both of whom rallied business owners to comply with quality and standard as a means of increasing competitiveness.