In an attempt to create even more jobs in the sub-sector of fertilizers, the African Agribusiness Incubators Network (AAIN) is rolling out a new program for existing youth-led SMEs.
This according to Dr Alex Ariho, the AAIN CEO is joint work with partners who are also committed to addressing the lack of sufficient data.
The partnership was highlighted at the 2017 West Africa Fertilizer Agribusiness Conference that ran from the 10th to the 12th of July in Accra, Ghana where AAIN was represented by Dr Ariho and Peter Kuria Githinji, the AAIN Partnerships Director.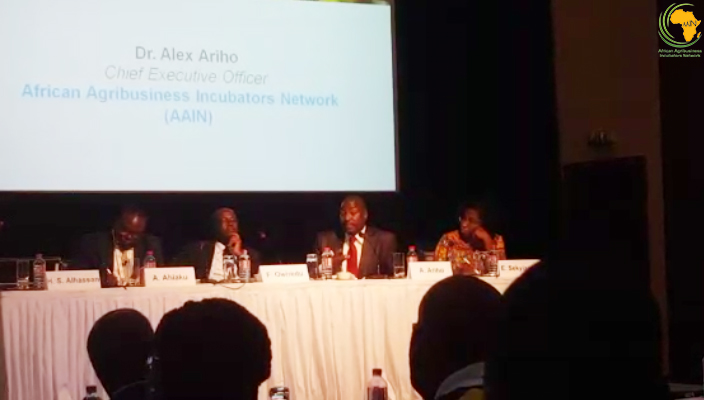 Redeeming the sub-sector
One of the outstanding challenges to this sub-sector that was stressed by panellists is the limited awareness of the benefits and techniques of sustainable fertiliser application.
This was mainly indicated in the first workshop at the conference on "Understanding West African soils and their nutrient needs" led by Derrick Tuffour-Mills a West Africa Agronomist with Yara, Eugene Rurangwa a Land and Water Officer with the FAO Regional Office for Africa and Prof. Victor Chude, the President of the Soil Science Society of Nigeria.
The experts agreed to push for enhanced soil mapping to update fertilizer recommendations, creating a network of laboratories to process data and applying innovative new technologies to increase efficiency.
AAIN's submission was made at the "Youth and women in Agribusiness" Workshop that explored options for encouraging agripreneurship and youth enrolment in agribusiness incubators which are coordinated by AAIN, among other items.
"We looked into a series of issues related to the activities required to promote greater participation and capacity development around the engagement of Africa's women and youth in agribusiness," –Peter Kuria Githinji, AAIN Director for Business and Partnerships Development.
Improvements in Sub-Saharan Africa
The FAO indicates promising trends in fertiliser usage in Sub-Saharan Africa in the organisation's report on "World fertilizer trends and outlook to 2018."
The report indicates that with the region's share of world consumption of nitrogen is 1.5 percent, 1.9 percent for phosphate and 1.4 percent for potash, the growth rate in demand for nitrogen, phosphate and potash for fertilizer is expected to be 4.6, 2.3 and 9.4 percent, respectively by the end of 2018.
Dr Ariho pointed to the prospects for youth in Africa who are running SMEs in the sub-sector in including South Africa, Nigeria, Kenya and Ethiopia that the report points to as being the major users of fertilizers in sub-Saharan Africa.
"We need to have an effective system for the collecting and update of data regarding soil fertility in different geographical regions as related to the application of and access to fertilisers. These are interventions that the youth can also take on as a way of creating jobs. We in the sub sector of agribusiness incubation have a strategy to include these in AAIN-model incubation under the African Agribusiness Incubation Programme (AAIP),"- Dr Alex Ariho, AAIN CEO.